All guests who present themselves are to be welcomed as Christ.
-Rule of St. Benedict


The Ministry Center is the guest/retreat house for Monastery of the Ascension. It is a modern, spacious facility completed in 1994. There are 16 rooms in two wings, each room with two twin beds and a complete bathroom. Each residential wing has a large, naturally lit lounge for reflection and reading. For larger retreats there is a large auditorium and spacious dining room that looks out to a shaded lawn and patio.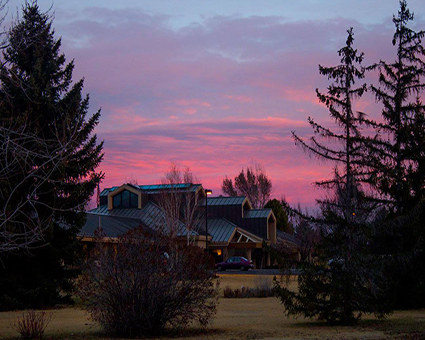 At Monastery of the Ascension, our main ministry or outreach to the community is to offer Benedictine hospitality. The community offers periodic retreats for the general public or for special needs. We also respond to requests for special retreats. We are ecumenically minded and welcome other church denominations and groups who wish to use the Center for their retreats and workshops. The Center is a favorite for youth and quilters' retreats for groups throughout Southern Idaho.
Individuals find the peace of the Monastery a very relaxing retreat from the stress of everyday life. We welcome individual requests for days of prayer and retreat. Guests are welcome to join us for our daily prayer and Eucharist. All scheduling of group and private retreats is done with the Guestmaster via email: guestmaster4156@gmail.com.
Suggested offerings for staying at the Monastery:
ROOMS: $50.00 per Night
FACILITY FEE: $8.00 per Day per Person for groups less than 18
FACILITY FEE: $150 per Day for groups of 18 or more
Meals:
Breakfast: $7.00
Lunch: $8.00
Supper: $10.00
Please call or write for reservations: